Whether you are a fan of sports or not, there are certain parallels that can be drawn between athletic coaches and leaders. One that I like to highlight is that of a team mantra.
Obviously, you don't do button-up meetings and have business check-ins, standing in a circle, with all hands in the middle, shouting "Go Team!" However, developing a team mantra can be extremely effective for team building. Since it's not as simple as ending a meeting with "Go Team!" here is my method for mantras.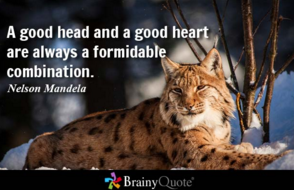 First, do a personal litmus test of the personalities on your team. Sayings regarding the well-being of furry cats is not going to strike a nerve in a room full of type-A personalities. Same goes for famous sports quotes, which may not motivate if your team isn't full of armchair quarterbacks.
Once you've gotten a feel for what your team's overall personality is like, do a little research. There are thousands of places online to go for inspirational quotes. Visit BrainyQuote or search google for "mantras." Of course, ensure the words of wisdom apply to your team and current goals.
Now you're ready to motivate! A mantra can be a great way to begin a meeting, as well as an exclamation to the end of a meeting. It can also help motivate your team throughout the year to hit their goals. Just remember to be consistent. Finally, your mantra can change with the season, quarter, or any timing that you feel is relevant.
I'll end this email with a personal favorite:  Destiny favors the prepared - Our team is always prepared.

Chris